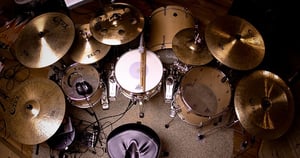 $

9.99
Top-down/fisheye lens-style shot of my drum set in an 18"x24" poster. The photo may also be viewed here: http://travisorbin.com/media.htm (the poster does not bear the photographer's watermark). The poster will be shipped in a poster tube. Here is a promotional video - poster promo
Worldwide shipping is available. Also, if you'd prefer to send a money order for payment, please e-mail me at orbinator@gmail.com.
Due to considerable response, I added a "(signed)" option in the drop-down menu for those who'd prefer an autographed poster. I'm flattered - thanks, everyone!
Thank you for your support!